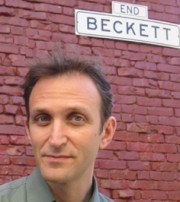 Joshua Landy
Professor of French and co-director of the Literature and Philosophy Initiative at Stanford University.
Visit Joshua Landy's website here.
Presentations:
Literature, Narrative, and the Shape of a Life
Thursday, 17 March 2010
16:00-18:00 at Senate House, Room 104
Abstract:
It is often said that lives are narratives. I want to complicate this bit of doxa in three ways: first, to reinstate the normativity (lives should perhaps be narratives, but are not always); second, to add the important adjective "literary" (lives should be literary narratives), exploring the role of specifically literary models in our acts of self-fashioning; and third, to challenge the hegemony of narrative (lives should also be poems, with proper emphasis given to non-narrative phenomena).
A Nation of Madame Bovarys: On the Problematic Possibility and Dubious Desirability of Moral Improvement through Fiction
Wednesday, 21 March 2007
14:00-16:00 at UCL Philosophy Department, Seminar Room